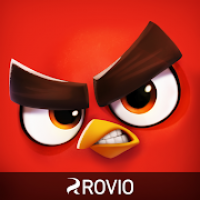 Angry Birds Dream Blast Apk 1.34.0 Money Mod Download
Download Angry Birds Dream Blast Apk Money Mod
Angry Birds Dream Blast Apk is a puzzle game offered by Rovio Entertainment Corporation. It has more than ten million downloads on the play store. Play with your favorite angry birds and use their powers in bubble puzzle game.
If we look at the details of the game, welcome to Chuck's dream world where dream bubbles are everywhere in Angry Birds Dream Blast. In the game, you have to complete the levels by popping the dream balloons and reaching the targets. Tap bubbles of the same color to pop them. Keep popping the bubbles until the given target is completed. Create bird boosters by popping 4 or more matching bubbles. Use boosters or power-ups to get some help. You can join teams, request lives, and complete team events for awesome rewards.
Angry Birds Dream Blast has 3 boosters in its game: Red, Chuck and Bomb. You can choose boosters before starting the level and then the level will start with these boosters. You can also create these boosters with various combinations. Popping 4 or more bubbles creates Red. When 2 Reds come together, they form Chuck, and when 2 Chucks combine, they form Bomb. Blast Red to clear that row. Chuck clears both row and column. The bomb pops all the bubbles. Once you win a certain number of levels without losing and create a streak, the levels will start with all boosters.
If you feel you need help at any level, you can use power-ups. There are 3 power-ups: Shooting star, Slingshot and Shuffle. Select the shooting star and tap any bubble, stone or anything breakable. Then a shooting star will explode there, destroying the target and everything around it. With the slingshot, you can aim and pop a balloon, stone or anything. Shuffle power-up shuffles and rearranges all bubbles. It is very useful when there are few matching bubbles.
There are more than 5000 levels in the game and with each successful level the difficulty level increases. You will achieve challenging targets in each level. A certain number of bubbles, ice cubes, breaking stones, spawning birds, knocking eggs down, etc. There are many types of targets. However, it will not be that easy. You have to open the pig locks, the balloon locks. Bubbles will be locked with chains so you can't pop them without birds and many other obstacles at higher levels.
Coins are the main resources in the game. Lives are required to keep playing the levels. If you don't have any life then you can't play any level. If you fail to complete all the objectives and fail the level, you will lose one life. After a certain amount of time, the lives are automatically recharged. The maximum number of health is 5. You can also ask for life from your teammates. You can get 5 lives from the team. The coins are used to buy power-ups and power-ups. Come on, what do you think? Download Angry Birds Dream Blast from our site and share your experience with this game in the comments section.